With fewer cars on the road, and next to no claims being filed, car insurance companies are seeing sky-high profit margins. Which companies are doing the best job of sharing this windfall with policyholders?
*Updated with additional information*
American Family, an auto insurer, estimated that car owners drove 40 percent fewer miles than average during the last three weeks of March. That number may have declined further as an increasing number of state and local municipalities issued stay-at-home orders. With the country temporarily on pause, schools and businesses have closed their doors, carbon levels have dropped six percent, more than 38 million Americans have filed for unemployment since late March, and auto insurance providers are paying out next to nothing in claims.
The latter two developments set drivers and their insurance companies up for an uneasy dynamic. While millions of Americans face financial uncertainty, the auto insurance industry is set to make an estimated $2 billion in additional monthly profits during this pandemic according to insurance experts. While other sectors like retail, services, and travel are struggling to stay afloat, car insurers are uniquely poised to offer their clients a helping hand during this period of financial hardship.
Many companies are relaxing policies around late payments, extending coverage to new delivery drivers, and crediting money back to policyholders for future payments, but only a select few are putting money directly into the hands of drivers during this period of economic uncertainty. Curious to see which providers were so generous, the data science and research team at Insurify set to tally the companies that have been the most selfless during shelter-in-place.
Insights
Are smaller insurers more generous?

There is a weak inverse correlation

between the total estimated income a provider makes from premium payments and the percentage of that income they're refunding to drivers during this pandemic. That is to say, the less a company earns from insurance premium payments, the higher the relative share that they return to car owners' wallets.
Refunds are rare.

Out of 20 top auto insurers, only

nine

are redistributing part of their boosts in revenue directly to drivers.

Nine

are either crediting money to policyholders' accounts or offering discounts on upcoming payments, and

two

have yet to announce any plans to offset costs for car owners during this time of economic uncertainty.

Other policy changes. Thirteen

of the top 20 car insurance providers are offering a respite on auto policy cancellations for drivers who can't make premium payments during the outbreak. Additionally, Allstate, Liberty Mutual, and USAA are extending coverage to policyholders who have newly started driving for delivery services.
Methodology
The data scientists at Insurify — a site that lets drivers compare car insurance policies — collected information on companies' formal pandemic responses to determine which auto insurers have returned the most money to car owners during this economic downturn. This analysis included only those providers who refunded money directly to consumers; not those who only credited consumers' accounts. Refunds are more selfless in that they are immediate and can be allocated to any financial need, and are not guaranteed to be spent with the company in the future.
These top eight insurers were sorted according to the percentage of their monthly premium income returned to their customers as a refund. To estimate this share, their reimbursements were divided over the average monthly direct premiums earned for 2019 across all lines of insurance. Data on insurers' annual direct premiums came from the National Association of Insurance Commissioners and was estimated from fourth-quarter financial information on Seeking Alpha in the case of Mercury.
The figures on how much money each company reimbursed came from individual corporate announcements. Auto-Owners', The Hartford's and Nationwide's refunds had to be estimated as they only disclosed refund percentages and not total dollar amounts. Auto-Owners and The Hartford reimbursed 15 percent of premium payments for April and May, and Nationwide returned approximately 15 percent of a single month's payment. As such, Auto-Owners' and The Hartfords' reimbursement was calculated at 15 percent of their 2019 average monthly private passenger auto premiums written for a total of two months, and Nationwide's was calculated as 15 percent of their 2019 average monthly private passenger auto premiums written for a single month.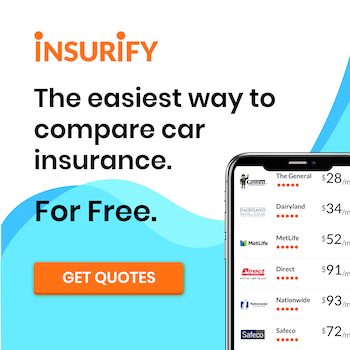 The Most Generous Auto Insurers During Quarantine
8. The Hartford
Estimated share of monthly premium income refunded: 4.89%
Total refund:

$50,707,424 (estimated)
The Hartford is one of the 15 largest car insurance providers, but is the third most generous company during this public health crisis. The insurer has committed to reimburse 15 percent of auto premiums for the months of April and May despite steep losses to their own income as the financial fallout of the outbreak hits their investments.
7. Nationwide
Estimated share of monthly premium income refunded: 5.16%
Total refund:

$78,069,845 (estimated)
2019 premium income:

$18,166,669,579
Nationwide is the tenth largest auto insurer in the United States in terms of both premiums and market share. Given the economic hardship faced by many car owners across the U.S., Nationwide has decided to share some of that premium revenue with its customers. In returning $50 for each policy, Nationwide is estimated to have given over $200 million back to drivers.
6. Liberty Mutual
Estimated share of monthly premium income refunded:

8.58%
Total refund:

$250,000,000
2019 premium income:

$34,954,640,834
Beginning our list is Liberty Mutual, the insurance company that gave away one of the largest refunds to policyholders across the country. Totaling a quarter of a billion dollars, the reimbursement payments automatically went out in April. LiMu is also offering extended payment deadlines, waiving late fees for customers who are impacted by the outbreak, and expanding coverage to drivers newly using their cars to deliver food and medicine.
5. Auto-Owners
Estimated share of monthly premium income refunded: 11.78%
Total refund:

$80,876,260 (estimated)
2019 premium income:

$8,241,035,838
Auto-Owners is one of the smallest insurers on this list, but it is also the second-most generous, as it returned 15 percent of premium payments for two months in response to the latest news. Estimated near a third of Auto-Owners' monthly premium earnings, this is one of the most selfless refunds in response to the current state of affairs.
4. Allstate
Estimated share of monthly premium income refunded:

20.82%
Total refund:

$600,000,000
2019 premium income:

$34,574,634,393
Allstate was one of the first providers to announce a direct refund to policyholders in response to the financial crisis. They also returned the largest total reimbursement, coming in at over half a billion dollars. Allstate is putting the largest dollar amount back in car owners' wallets even though it is not the largest company in terms of premiums or market share.
3. American Family Insurance
Estimated share of monthly premium income refunded:

21.24%
Total refund:

$200,000,000
2019 premium income:

$11,298,074,729
American Family Insurance was another early leader at the forefront of auto insurance refunds. Not only has the insurer returned an estimated 21 percent of their monthly premium revenue to drivers, but they're also donating another $275,000 to relief funds in cities where their offices are located.
2. Mercury
Estimated share of monthly premium income refunded: 25.93%
Total refund:

$80,000,000
2019 premium income:

$3,701,600,000 (estimated)
By best estimates, Mercury refunded over a quarter of its monthly income from auto insurance policies. It also went the extra mile by reimbursing partial premium payments for not one, but two months. This doubled generosity is surely welcomed by Mercury's customers as the unemployment rate continues to climb through May.
1. Erie
Estimated share of monthly premium income refunded:

32.82%
Total refund:

$200,000,000
Not only is Erie refunding the largest estimated percentage of its monthly premium income to policyholders during the pandemic, but they're also helping their employees benefit their local communities. Erie has pledged $2.5 million to reimburse and/or match the donations of its agents, employees, and field offices around the country.
Honorable Mention: New Jersey Manufacturers
Total refund:

$41,700,000
Unfortunately, we were unable to locate financial disclosings on the premium revenue for New Jersey Manufacturers in order for it to be included in this analysis. However, NJM has sent $41.7 million to car owners despite being much smaller than any other provider on this list.
If you have questions or comments about this article, please contact insights@insurify.com.
Information contained on this page is provided by an independent third-party content provider. Frankly and this Site make no warranties or representations in connection therewith. If you are affiliated with this page and would like it removed please contact pressreleases@franklymedia.com